Turning Your Dream Home Into a Reality!
As we started the custom trim phase of one of our projects, our Clients approached us with an issue of the Canadian Architecture & Design Magazine and asked if we could replicate the cover image in the foyer of their new home. We assured them we could and they were quite pleased with the results!
"Sawlor's ability to replicate the cover of an Architectural Digest magazine exceeded all of our expectations and the craftsmanship has been consistently admired and revered by everyone who enters our wonderful home."  – Lisa & Henrick
Pictures are an invaluable resource to convey your desires. We recommend creating a portfolio of ideas and inspiration for your new home that can be discussed with your builder as the home building process begins. 
Want to see more photos of this home? Check out Custom Home 28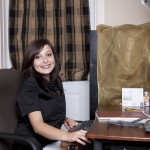 Kaila Sawlor
Marketing Manager
Kaila is the Marketing Manager of Sawlor Built Homes and is focused on all of our marketing initiatives. She continuously updates our profile on Facebook, Instagram, Houzz, Twitter, Google+ and Pinterest. Kaila continues her education and training in this new and exciting industry and is intent on becoming an industry leader in Inbound Marketing and Social Media.